Our Mission Statement
Enriching community through engaging content.
Vision Statement
A Curious, Inspired and Engaged community.
Our Values
Connection with Community: We listen, respond, collaborate and lead.
Inclusion: Welcoming, inclusive content and representational diversity.
Integrity: The utmost care to grow the community's trust.
Accountability to our stakeholders: PBS Fort Wayne honors the respect our community and stakeholders have for us by remaining focused on our public service mission.
Sustainable Stewardship: All actions are thoughtfully undertaken, fiscally responsible and forward-looking.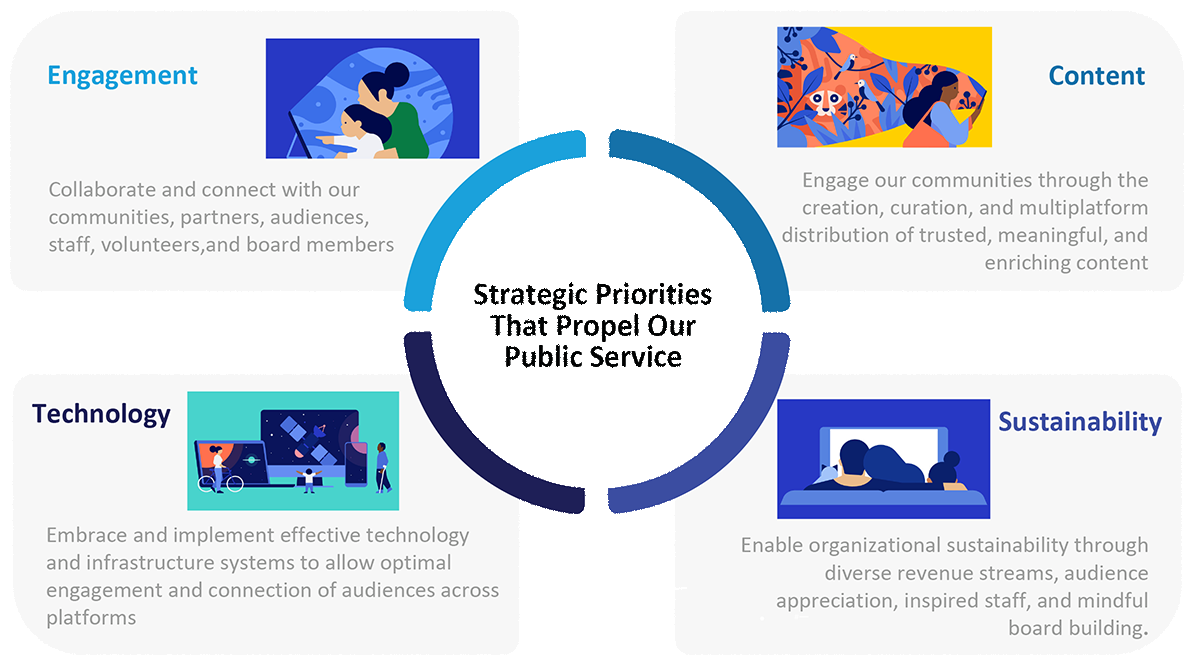 Our Channels
PBS Fort Wayne broadcasts 24 hours a day over the air digital on UHF Channel 39, and within that bandwidth, broadcasts five TV Channels:
PBS Fort Wayne/Channel 39.1 (also seen on Comcast Channel 3/Comcast Digital 240 and Comcast 1039-HD, Frontier FiOS Channel 3, 470 and 503-HD)
PBSKids/Channel 39.2 (also seen on Comcast Digital 241, Frontier FiOS Channel 471)
createTV/Channel 39.3 (also seen on Comcast Digital 242, Frontier FiOS Channel 472)
Explore/Channel 39.4 (also seen on Comcast Digital 243, Frontier FiOS Channel 473)
39.5/PBS39WX Our 24/7 live weather radar channel (not yet available on most cable, satellite and pay TV providers)
To see where PBS Fort Wayne's channels can be found on other area cable and pay-TV providers, click here.
Contact us:
Via email at:info@wfwa.org
Via phone at: (260) 484-8839
Regular Office Hours: Monday - Friday, 8:30am-5pm